Dr. Arghya Majumdar
MD, DNB, MRCP (UK), Higher Specialty Training (Nephrology), UK,
Consultant Nephrologist & Transplant Physician
Presentation & Publication:
---
• Publication:
Journal :
Original article: Microabuminuria: A novel bio- marker of sepsis. Indian Journal of Critical Care Medicine (2010), 14 (1):22-28 (Final author)
Original Article: Renal Pathological findings in infective endocarditis. Nephrol DialTransplant (2000), 15:1782-1787. (1st author)
Review Article: Lipid abnormalities in renal disease: Journal of the Royal Society of Medicine (2000), 93(4):178-182 (1st author)
Original Article: Glomerular prolapse as precursor of one type of segmental sclerosing lesions. Journal of Pathology. (2000), 190(4):478-483 (3rd author)
Review article: Sepsis related AKI. Indian journal of Critical Care Medicine (2010), 14 (1)
Case report: Rhabdomyolysis in a case of status epilepticus: Journal of the Association of Physicians of India, (1993).
Case report: Renal amyloidosis and angioimmunoblastic lymphadenopathy: Nephrol Dial Transplant (1998) 13:453-454.
Case report: Vancomycin dependant enterococci in a uraemic patient with sclerosing peritonitis: Nephrol Dial Transplant (1999), 14:765-767. (1st author)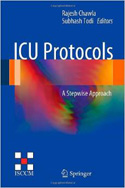 Books :

The book describes step-wise management of clinical emergencies seen every day in Intensive care units (ICUs. As a practical guide, clinicians can refer to it on a day-to-day basis during their work hours, or while in transit to update their knowledge. Targeted readers are intensivists, critical care specialists, and residents involved in the care of patients admitted in ICUs. This handbook covers an array of specialities such as cardiology, pulmonology, gastroenterology, neurology, nephrology, traumatology, and toxicology. This monograph provides point-of-care treatment guidance and will serve as a ready-reckoner for physicians to quickly learn the management steps in a methodical manner.
Author of All Chapters on Nephrology, in this book
• Presentations:
at the International Symposium of Intensive care and Emergency Medicine, Brussels,2007

Presentation of a paper entitled: 'Trend of microalbuminuria helps in predicting outcome in critically ill patients'-
at the Indian Society of Nephrology Conference (Eastern zone), Kolkata- Best paper award.
at the Indian Society of Nephrology Conference (National), New Delhi
Presentation of paper entitled: 'Microalbuminuria in critically ill patients: a marker of sepsis'-

at the Indian Society of Critical Care Medicine, Bhopal,-the Hansraj Nayyar award- for best research paper
at the American Society of Nephrology Conference, Philadelphia- 2008


Presentation of paper entitled: 'Utilization of SLED may optimise the need for CRRT in Indian ICU's'

at the Dialysiscon, SGPGI, Lucknow, 2008
at Criticare 2009, Indian Society of Critical Care Medicine, Agra, 2009


Lecture at ISCCM & ISN National Conferences